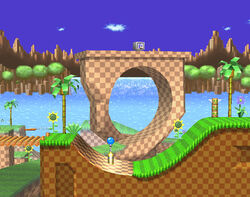 Green Hill Zone is the very first stage of the original Sonic the Hedgehog. It has become famous over the years and has been depicted in various ways.
Super Smash Bros.
The Green Hill Zone is also a stage in Super Smash Bros. Brawl and the 3DS version of Super Smash Bros. for Nintendo 3DS/Wii U. It comes complete with 3D styled graphics resembling the original stage's look, and even includes the original soundtrack, virtually untouched in its original form.
The main feature of the stage is the big, gently-sloping dip in the ground. If the middle section takes too much damage, it'll break off. However, it will reappear later. There is also a checkpoint pole that will appear at random places at random times and if players hit it and an opponent runs into it after hitting it, it will hurt the opponent. The famous shuttle loop can be seen from the background. Tails, Knuckles, and Silver can be seen there from time to time.
Music
Bold means the songs must be unlocked while Italics mean the song returns from an earlier entry
Super Smash Bros. Brawl
Green Hill Zone
Angel Island Zone
Scrap Brain Zone
Emerald Hill Zone
Sonic Boom
Super Sonic Racing
Open Your Heart
Live & Learn
Sonic Heroes
Right There, Ride On
HIS WORLD (Instrumental)
Seven Rings in Hand
Super Smash Bros. for Nintendo 3DS/Wii U
Green Hill Zone
Live & Learn
Gallery
Trivia
Community content is available under
CC-BY-SA
unless otherwise noted.