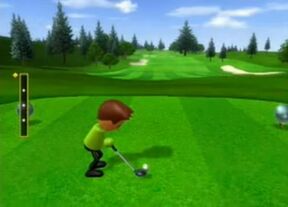 Golf is one of the six sports the user can choose in Wii Sports and Wii Sports Resort. There are four clubs that go different distances with the Putter being the one that goes the shortest distance and is being used mainly on the green. The Driver is the one that can go the farthest distance and is being used usually on the first shot of a hole. The Wedge and Iron fall between these two.
If the player gets the ball in a water hazard or out of bounds, he/she will get a 2-shot penalty. When the player hits the ball into the hole, one of these things will appear on on screen and they will have an impact on the game. If the player takes fourteen shots and either gets the ball in the hole or misses it, give up will appear on the screen with a +10 appearing.
+10 Give up
+3 Triple bogey
+2 Double bogey
+1 Bogey
+0 Par
-1 Birdie
-2 Eagle
-3 Albatross (Double Eagle)
-2 Hole in one (Ace)
Trivia
When the button 2 is pressed while the player is selecting his/her difficulty, he/she will get rid of the details around him her.
The golf course in Wii Sports is nearly identical to the one in Golf for the Nintendo Entertainment System.
Community content is available under
CC-BY-SA
unless otherwise noted.