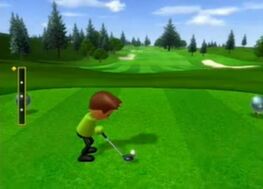 Golf is one of the five sports the user can choose in Wii Sports and Wii Sports Resort. There are four clubs that go different distances with the Putter being the one that goes the shortest distance and is being used mainly on the green. The Driver is the one that can go the farthest distance and is being used usually on the first shot of a hole. The Wedge and Iron fall between these two.
If the ball goes out of bounds or into a water hazard, the player will get a one-shot penalty and hit his/her shot at the same spot. When the player hits the ball into the hole, one of these things will appear on on screen and they will have an impact on the game. If the player takes Par times three shots, the player doesn't finish the course, scoring +6, +8 or +10 on his overage.
+3 Triple bogey
+2 Double bogey
+1 Bogey
+0 Par
-1 Birdie
-2 Eagle
-3 Albatross (Double Eagle)
-2 Hole in one (Ace)
-3 Double Birdie
Trivia
Community content is available under
CC-BY-SA
unless otherwise noted.