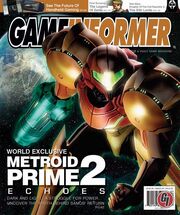 Game Informer is a magazine that's first issue was released in August 1991. It is owned by Gamestop, a game selling company, though it will also be sold else where such as Barnes & Noble, and others. It features all current Nintendo made products, as well as it's competitors.
Game Informer is self-proclaimed "The World's #1 Computer and Video Game Magazine", as stated on every recent cover of the magazine.
Features
Staff - Information on all the staff
GI Spy - Pictures of some of the companies in Video Games
Dear GI - Letters that fans have sent in, as well as fan art
Connect - Latest Technological News
Gear - Covering all Gadgets and Gear
Opinion - An editorial on the state of video gaming
Cover Story - All the info on the game or subject on the cover
Previews - Previews on upcoming games
PhotoPhile - Many photos of upcoming games with short descriptions
Reviews - Reviews of games that just came out, or are about to
Charts - Top 20 selling video games
Reviews Archive - Many old review scores from past issues
Secret Access - Cheat and hint page
Classic GI - reviews of classic games
Game Over - Video Game Trivia
Other Info
Official Website
US $5.99 retail price

Community content is available under
CC-BY-SA
unless otherwise noted.