Fluidity (Hydroventure in PAL) is a WiiWare game developed by Nintendo on the Wii Shop Channel. It was released on December 6, 2010, and can be purchased for 1,200 Nintendo Points.
From December 15th, 2011 to January 1st, 2012, you could get Fluidity from Club Nintendo for 150 Coins. A sequel for the Nintendo 3DS, titled Fluidity: Spin Cycle, was released on December 2012.
Gameplay
Wii Shop Channel Description
This is the description for Fluidity on the Wii Shop Channel:
A magical illustrated encyclopedia, Aquaticus has been tainted by a vial of evil ink called the Influence. You, as a pool of water that can take on other forms of ice and steam, must overcome obstacles scattered across the pages of Aquaticus and save it from the corruptive Influence.
Tilt and twist your Wii Remote controller to use the various forms and properties of water on your free-flowing journey through Aquaticus, where every page has multiple panels and illustrations that have come to life. Tackle problems and defeat enemies to reveal magical Rainbow Drops, each of which restores some of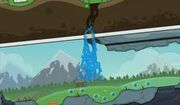 Aquaticus' power and allows it to open more chapters and grant you new powers. These additional powers, such as sticking to objects as a block of ice or shooting bolts of lightning as a steam cloud will be needed to win the day and destroy the Influence and its minions.
Also along the way, you can test your ingenuity and reflexes by finding hidden puzzle pieces. These unlock playrooms that give you the opportunity to use the skills you've learned and dare you to race' against the clock and beat as many challenges as possible. These challenges won't affect your quest to restore Aquaticus' powers, but everyone needs a break now and then, right?
Fluidity offers the chance to slosh and slide your way through an imaginative environment, filled with challenging adventures, using intuitive play control. Are you ready to dive into this unique experience and save the day?
Reception
IGN gave Fluidity 8.5 out of 10.
Community content is available under
CC-BY-SA
unless otherwise noted.