Quote

"You use many kinds of visual abilities in daily life. Identifying several objects in a wide range of vision at once, correctly recognising moving objects and so on make up your ability to see. In other words, you could say your visual ability is the accuracy and agility of your eyes. In this game we call your visual ability 'Focus Ability', and aim to improve it through training."

— Dr. Hisao Ishigaki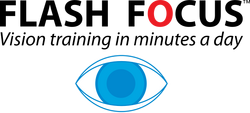 Flash Focus: Vision Training in Minutes a Day (JPJapanese: 見る力を実践で鍛える DS眼力トレーニング

Romaji: Miru Chikara wo Jissen de Kitaeru: DS Medikara Training) is a Nintendo DS video game released in 2007-2008 (the later only referring to Australia). The game is considered a spirtiual successor to Brain Age: Train Your Brain in Minutes a Day! in that it involves short sessions that are intended to improve your daily activities, with this particular game supposedly improving your vision and possibly your hand-eye coordination. Despite critical backlash, the game won best Nintendo DS game of 2007 at the German Games Convention.
Community content is available under
CC-BY-SA
unless otherwise noted.