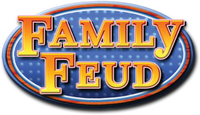 Family Feud is a game based on the popular long-running game show of the same name hosted by Steve Harvey. This game show had several versions made for Nintendo systems in the United States throughout its run.
This game is where a survey question is read and you have to guess the answers the survey said. Correct answers give you points based on how many people said the same answer. If the answer isn't correct, you get a strike. Three strikes and the opponent gets a chance to steal. Should you sweep the board or your opponent fails to steal, you win the points. The first family to amass 300 points or more wins the game and gets to play the Fast Money Round.
In the Fast Money round, you are asked 5 questions  You have to give an answer for each of the 5 questions in 20 seconds.  Afterward, the answers are listed and points are rewarded. The same 5 questions are asked again and you have 25 seconds to answer them, and you cannot duplicate the answer you used the first time. If you can amass 200 points or more, you win the game. Otherwise, you get $5 for each point you score under 200.
Versions
Super Nintendo Entertainment System
Music
All the games except for the GBA version use the show's well known theme called "The Feud" by Robert Israel. The GBA version uses the 1999 theme by John Lewis Parker.
Trivia
This game is only available in the United States due to legal barriers preventing its release in Canada, Mexico and Latin America.
Community content is available under
CC-BY-SA
unless otherwise noted.