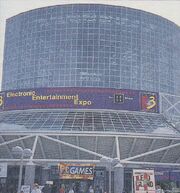 The Electronic Entertainment Expo 1996 (commonly known as E3 1996) was the second Electronic Entertainment Expo. It ran from May 16 to May 18 of 1996 in Los Angeles, California. The most noteworthy event during the show was Nintendo unveiling the Nintendo 64 as well as its launch title Super Mario 64.
Nintendo's booth
Nintendo's booth featured, in massive letters, the company's name in red that towered above a wall that was plastered with the Nintendo 64's logo. Going through the booth, visitors would pass by American road signs, trees, and many bright and exciting lights all intended to set the mood and attract people walking around the convention center. Going farther into the booth, a storm trooper from the Star Wars franchise (there for the Nintendo 64 game Star Wars: Shadows of the Empire) stopped visitors only to subsequently let them continue on into a room that featured a massive Mario statue looking down on the attendees. After this was a large room that featured a demonstration of the Nintendo 64 that played regularly. A sign placed outside of the room listed when the next show would start.
Events
The Nintendo 64 and Super Mario 64 are unveiled. Visitors were given a chance to play the game. Wave Race 64 and Pilotwings 64 were also on the show floor.
Nintendo announces that the price of the Virtual Boy was dropped to $100. Soon after the company would discontinue the failed system.
The Game Boy Pocket was announced. It was 35% smaller than the Game Boy, but would not include games made specifically for it.
Video
Community content is available under
CC-BY-SA
unless otherwise noted.