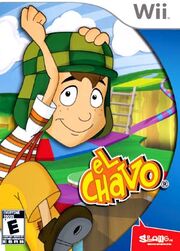 El Chavo is a 2012 video game released exclusively for the Wii. The game is based on the 2007 animated TV series, which is a spin-off of the live-action show El Chavo del Ocho. The game is released exclusively for Mexico and Brazil. It is developed by Kaxan Media Group in association with Slang Publishing and Televisa Home Entertainment. The game is released on April 27, 2012.
Gameplay
The game is very similar to the Mario Party series. Four characters are playable before the game: Chavo, Nono, Quico, and Popis. The object of the game is to score more points than the opponents to win each game. The game consists up to four players.
Languages
There are three languages: English, Spanish, and Portuguese. The Spanish version has original dubbing. The Portuguese version includes segment from Portuguese dubbing. The English version includes the cutscenes from Kabillion in the US.
Mini-games
There are thirty types of mini-games.
Shooting Gallery (Tiro Al Blanco in Spanish) - This games requires players to match white targets.
Cow Running (Tumba la Vaca) - This game allows players to jump over a number of cows for distances. The more you jump, the more points you get.
Rings (Aros) - This game shows Senor Barriga where you must throw hoops at the vases.
Balloons (Dardos) - This game takes place on a rotating wheel where you must hit balloons of your own color.
Board Game - Based on Snakes and Ladders, you must reach to the finish lines while opponents take turns.
Voices
| Character | Actor |
| --- | --- |
| El Chavo | Jesus Guzman |
| Quico | Sebastian Llapur |
| Nono | Mario Cataneda |
| Don Ramon | Mario Castaneda |
| Popis | Erica Edwards |
| Dona Clotilde | Erika Mireles |
| Professor Jirafales | Moses Suarez Aldana |
| Rufino Malacara | Carlos del Campo |
Community content is available under
CC-BY-SA
unless otherwise noted.