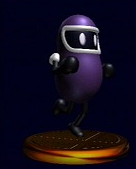 Eggplant Man is a character who first appeared in the game Wrecking Crew for the NES. Since that game is a game starring Mario, Eggplant Man is counted as a Mario character. Eggplant Man wears a metallic mask that covers his body, then he runs around trying to hurt you. After Wrecking Crew, Eggplant Man appeared in the sequel, Wrecking Crew '98, which is a Japan only game for the Nintendo 64.
Cameos
There's also an Eggplant Man in Secret of Mana (Super Nintendo) on a machine generating monsters!
Super Smash Bros. Melee - Eggplant Man appears as a trophy in the game.
Chibi-Robo! - There is an eggplant looking like a kid atop a tree in the backyard. This eggplant looks identical to Eggplant Man.
Trophy description
"Eggplant Man debuted as an enemy in the NES game Wrecking Crew. Even though his movement pattern was very simple, he was a fairly formidable foe, since Mario and Luigi had limited means of attack. You could beat this enemy by dropping a Dead-End Drum on him or by trapping him behind a door and blowing up the room."
Community content is available under
CC-BY-SA
unless otherwise noted.