Quote

"All right, here we are, we're about to talk to two guys who play this game twenty-four hours a day, seven days a week, and guess what, folks? Guess what? They get paid."

— Josh Wolf, right before interviewing the testers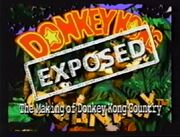 Donkey Kong Country Exposed is the first of the Nintendo Power promotional videotapes, sent out to Nintendo Power subscribers in October 1994. Hosted by Josh Wolf, the video featured a behind-the-scenes look at the then-upcoming Donkey Kong Country. The video follows Wolf around Nintendo of America as he interviews the game testers, and also features some tips for the game. At the very end of the tape, there is a brief scene where Wolf wanders into a room where people are playing Killer Instinct, teasing the game's Super NES port that would come out the following year. The UK version does not include the sneak peek of Killer Instinct, but it did have some of the UK Nintendo TV commercials.
Video
External links
Community content is available under
CC-BY-SA
unless otherwise noted.