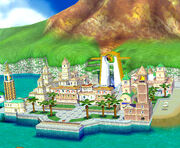 In the Wii video game Super Smash Bros. Brawl, Delfino Plaza is a stage takes the players through a tour of the entire island, while of course fighting throughout the event. Apparently it starts on a floating platform with the shape of the island outlined on the main portion. Eventually it'll actually drop onto the many parts of the island, where the landscape will dramatically change, making for an original and exciting stage. There are 11 different places it will drop you off.
Music
Italicized songs are returning from a previous entry. The bolded tracks must be unlocked
Brawl
Delfino Plaza
Title/Ending (Super Mario World)
Main Theme (New Super Mario Bros.)
Ricco Harbor
Main Theme (Super Mario 64)
Wii U
Delfino Plaza
Ricco Harbor
Super Mario 3D Land Theme/Beach Theme
Princess Peach's Castle
Rainbow Cruise
Main Theme (New Super Mario Bros.)
Main Theme (Super Mario 64)
Events
Brawl
Two Trouble Kings
In this event, Mario must battle both Bowser and King Dedede. The name is based off an event that occurred in Super Smash Bros. Melee called Trouble King, which featured just Mario and Bowser. In co-op mode, the second player is able to play as Kirby, and rightfully so seeing that Kirby's primary antagonist is in fact King Dedede.
Wii U
Origin
This stage takes place on and above Delfino Plaza. The stage will start out on a platform traveling in the air, ultimately heading towards the plaza. It'll occasionally land on the island, and there will be new terrain for you to enjoy. The level is obviously based around Super Mario Sunshine, and it almost looks as if it has been ripped from the game, minus the Piantas and Noki People. Similar locations appear in Mario Party 8 as a board, as a racing track in Mario Kart DS and Mario Kart Wii, as a court in Mario Power Tennis and as a board in the Japan-only game Itadaki Street DS. A My Music track is from New Super Mario Bros. for the DS and some music from Super Mario 64 and Super Mario World.
Gallery
Community content is available under
CC-BY-SA
unless otherwise noted.