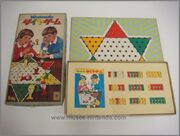 Daiya Game was a game released by Nintendo in the 1960s. Basically it is their own version of Chinese Checkers (Chinese Draughts in British English). The six multi colored triangles were red, green and yellow (two of each). Several variations were released by Nintendo.
Variations
Daiya Game: The first version released. The boxart was illustrated and featured two kids.
Diamond Game: The second version featured new boxart. This new boxart featured a family of four on the cover and was not illustrated.
Disney Daiya: A Disney variant featuring Donald Duck and Cinderella characters on the boxart. The actual game board featured characters from Lady and the Tramp, Cinderella and Pinocchio. Images of the boxart show triangles that are red, blue and yellow, though images of the game board show triangles that are red, green and yellow. Its unknown if different versions of Disney Daiya were ever released.
Community content is available under
CC-BY-SA
unless otherwise noted.