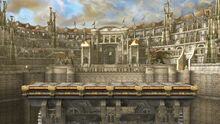 Coliseum is a stage for Super Smash Bros. for Nintendo 3DS/Wii U based on the Fire Emblem series.
Stage Elements
This stage is a large walk-off stage with transforming platforms. The platforms in the center mechanically rise in a variety of different formations, adding a vertical element to the stage. Outside of that, there is not much else.
The omega version has the platform made up of the mechanical transforming platforms with the stands in the distance.
Music
The italics mean the song is from earlier iteration of the series while bold means the song must be unlocked.
Wii U
The Devoted
Coliseum Series Medley
Fight 1 (Fire Emblem Gaiden)
Meeting Theme Series Medley
Fire Emblem: Mystery of the Emblem Medley
Time of Action
Id (Purpose)
Duty (Ablaze)
Conquest (Ablaze)
Glory of Heracles
Attack (Soma Bringer)
Origin
The stage is based on the various arenas and coliseums throughout the Fire Emblem series.
Trivia
The stage features mechanical platforms despite clockwork machines never being a notable part of Fire Emblem.
Unlike the other stages, this stage is representative of the whole Fire Emblem series rather than a certain game.
Community content is available under
CC-BY-SA
unless otherwise noted.