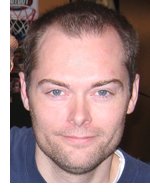 Chris Slate was the editor-in-chief of Nintendo Power for Future Publishing starting in 2007. He took on this role after the publication was sold to Future International. Chris Slate was born in Mount Airy, North Carolina and grew up in Greensboro. When he was sixteen, he managed to get a job with Game Players magazine in the late 1980s. Following this he became a regular writer for Game Players and, when the company moved to California, he became editor-in-chief. Following the closure of Game Players, Chris Slate started PlayStation Magazine. Even while working on PlayStation Magazine, Slate admitted that he was still more of a Nintendo fan. After Nintendo of America sold Nintendo Power to Future International, Scott Pelland resigned as editor-in-chief and Chris Slate became his successor.
Community content is available under
CC-BY-SA
unless otherwise noted.