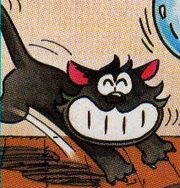 A Cat has appeared in several Game & Watch video games. In Chef, the cat would await for the player to launch a piece of food in the air, would quickly grab it with a fork, then shortly drop it. In Tropical Fish, the cat would await for the player to drop a fish, and then go in to claim its tasty snack, resulting in a lost life for the player. In Greenhouse a cat was the alarm signal.
Appearances
| | | |
| --- | --- | --- |
| | Chef | The cat will be parched on the top left and will await the chef to send a piece of food up his way. The cat will poke it with a pitch fork and shortly after drop it. |
| | Tropical Fish | The cat in Tropical Fish will act similarly to the cat in Chef, taking the fish when it drops to the ground. When this happens the player will lose a life. The cat also appeared as the alarm icon. |
| | Greenhouse | The cat in Greenhouse is the alarm. When the alarm rings, a bee will poke the cat with a spear. |
Trivia
The cat was removed from the Game & Watch Gallery version of Chef, though remained in the classic version. The cat was also present in the DSiWare rerelease of the game.
Community content is available under
CC-BY-SA
unless otherwise noted.