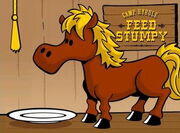 Camp Hyrule was an annual virtual camp that took place at Camp Hyrule. It usually took place in August. Every year, the members would be able to talk with people over the internet, play games, and more. The camp's mascot is Stumpy, a horse. It was hosted by Nintendo and Nintendo Power. Its last year was hosted in 2007. Since then, various people have tried to replicate the experience with little success.
Notable Sections
Trading Post - Announcements regarding the site, contests.
Amphitheater - Where interviews with people in the video game industry take place, as well as the ending ceremony announcing the winners of awards.
Lake Webaconda - This place is featured in every camp hyrule. At this area, you will be able to play games, such as the popular Marshmellow Roast and water sports.
First Aid Hut - An area where members can go to if they need help.
The Bonfire - The camp's most popular chat room.
Themes
Ever since 2000's Camp Hyrule, it has featured a main theme, along with other types of areas with game themes. The following are all the themes that have been featured.
See also
Community content is available under
CC-BY-SA
unless otherwise noted.