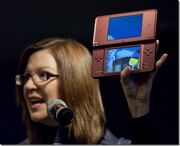 Cammie Dunaway was the executive vice president of sales & marketing at Nintendo of America from November of 2007 to September of 2010, when she quit to pursue a new job.
Biography
Dunaway worked at Frito Lay for thirteen years before joining Yahoo! in 2003. She quit Yahoo! in 2007 to pursue her new job. After announcing her departure from Yahoo!, she remained mum on the subject of where she would be heading, simply stating that the new company would be "a natural fit for someone who loves driving profitable revenue for big, well-loved consumer brands and can't pass up the opportunity to be the coolest Mom in the universe." Shortly thereafter it was announced that she would be joining Nintendo of America as the executive vice president of sales & marketing. She joined the company on November 5, 2007. She would make her first public appearance at Nintendo during their E3 2008 press conference, where she demonstrated a couple of Wii games. In 2009 she would announce New Super Mario Bros. Wii and Super Mario Galaxy 2 during the company's press briefing. In 2010 she didn't make an appearance at the press conference, but she did answer questions for the press afterwords.
In September 2010, Cammie Dunaway resigned from her position at Nintendo of America, effective October 1st, 2010 [1]. Concerning the resignation, she stated the following: "I'm thankful for my time with Nintendo and proud of our team's accomplishments in growing the Nintendo audience. I look forward to watching the continued growth of the Nintendo brand in the years ahead." She announced her departure on September 20th of 2010.
References
↑ Nintendo U.S. Sales Chief Leaves Video Game Industry. Bloomburg.com. Retrieved on September 21, 2010.
Community content is available under
CC-BY-SA
unless otherwise noted.