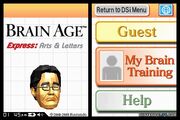 Brain Age Express: Arts & Letters (JPJapanese: 東北大学加齢医学研究所川島隆太教授監修 ちょっと脳を鍛える大人のDSiトレーニング

Romaji: Tōhoku Daigaku Karei Igaku Kenkyūjo Kawashima Ryuta Kyōju Kanshū Chotto Nō o Kitaeru Otona no DSi Training

Meaning: Tohoku University's Life Extension Research Laboratory's Supervising Professor Ryuta Kawashima's Short Adult Brain Exercises DSi Training, or "Chotto Brain Training") is a DSiWare game released in 2008 by Nintendo. The game was accompanied by Chotto Brain Training: Science and features various new and old games from the Brain Age series. The game features memory games. One of the new games will make use of the features of the Nintendo DSi, and will take one of the various pictures you've taken with the camera and then make you remember which one it chose. It comes with the Nintendo DSi XL along with Brain Age Express: Math and Photo Clock.
Community content is available under
CC-BY-SA
unless otherwise noted.