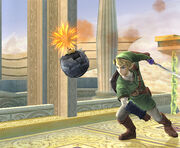 Bomb is a move in the Super Smash Bros. series. Link, Young Link, Toon Link, and Samus Aran are able to use bombs against their opponents.
In the Super Smash Bros. series, Link (from all the five games), Young Link (Melee), and Toon Link (Brawl), were capable of launching bombs at their opponents by pressing down B. If they held the bomb for too long, then it'd explode in their hands, thus delivering damage. The only way that either of these characters could perform a reverse Hyrule jump, however, was by holding the bomb so that it'd launch him upwards.
Samus also has a bomb as her down special move, Morph Bomb.
Link
Origin
In Super Smash Bros. Brawl and Super Smash Bros. for Nintendo 3DS/Wii U, they take on the appearance of Twilight Princess's bombs. These bombs were made by Barnes who is the owner of the Bomb Shop in Kakariko Village.
Usage
Customizations
Toon Link
Origin
Usage
Customizations
Community content is available under
CC-BY-SA
unless otherwise noted.