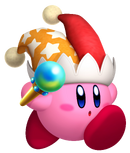 Beam Kirby is one of Kirby's copy abilities. With Beam, Kirby can fire a long range electrical whip from a magic rod and can also be charged up to fire a blast wave of energy. Beam Kirby is commonly obtained by inhaling the cycloptic Waddle Doo.
Abilities
Robobot
Description
Super Smash Bros. for Wii U
Waddle Doo can fire beams from his eye. Does that make you green with envy? Then inhale him and copy that ability! You'll then be able to shoot beams from a wand, and the attack can even be charged up for greater effectiveness. You can also use a beam to push switches or to grab and toss your foes.
NES - Kirby's Adventure - 05/1993
SNES - Kirby Super Star - 08/1996
Trivia
Beam Kirby is one of the few copy abilities to get a Nendoroid from Good Smile
Community content is available under
CC-BY-SA
unless otherwise noted.