Quote

"

Better to trick than be tricked!

"

— Bana
Bana is a Nopon in Xenoblade Chronicles and Xenoblade Chronicles 2. In Xenoblade Chronicles, he can be found in the southeast area of the Central Plaza in the Frontier Village. He is the chairman of the secret organization that sell red pollen orb to secret clubs in Alcamoth and the superior of Zazadan and Dedeba. After the destruction of the secret organization by the party, Bana is exposed as the chairman by one of Shulk's vision and will try to get rid of the party and Gadada. After his defeat, he will be found in the wheel at the Pollen Works.
Xenoblade Chronicles
Affinity links
Trade
For items without a page, check the Collectopaedia page.
Central Plaza
Only before the beginning of the "Bana the Betrayer" quest.
Apex Lake
Only during the "Bana the Betrayer" quest.
Pollen Works
Only after the "Bana the Betrayer" quest.
Quests given
Frenzied Bana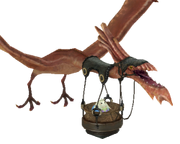 Frenzied Bana is a Unique Monster fought only during the "Bana the Betrayer" quest, It is a level 78 Pterix carrying Bana. It is fought at the Apex Lake at the top of the Frontier Village.
Stats
Stats
HP
500,000
Str
1480
Eth
934
Agi
121
Double Att Rate
10%
Critical Hit Rate
10%
Phys Def %
0%
Eth Def %
0%
Defence Direction
N/A
Arts
Art
Type
Strength
Hits
Range
Effect
Knockback
Blowdown/Daze
Big Gore VIII
Talent (Physical)
2.3 – 2.5
1
N/A
N/A
Yes
N/A
More Caviar!
Status
N/A
N/A
N/A
Crazed
N/A
N/A
Roar
Status
N/A
N/A
Circle around caster
Slow
N/A
N/A
Gore
Physical
2.8 – 3.0
1
N/A
N/A
Yes
N/A
Blazing Flare
Ether
1.3 – 1.5
1
Frontal Arc
Blaze
N/A
N/A
Pipe Down!
Ether
2.8 – 3.0
1
Circle around caster
Sleep
Yes
N/A
Wild Feast
Ether
4.8 – 5.0
1
Frontal Arc
Poison

Confuse

N/A
N/A
More Caviar! will only activate if Frenzied Bana's HP drop under 30%
Drops
Chests rates
Wood = 0%
Silver = 0%
Gold = 100%
Wood
Silver
This enemy does not drop crystals or non-unique armor.
Gold
Xenoblade Chronicles 2
Bana is fought as a level 65 quest exclusive enemy during the eleventh wave of the "This Year's Heropon" challenge in the Land of Challenge. Like every enemies in this mode, Bana has no regular drops when defeated.
Trivia
This is the only Unique Monster to have "Tragic Decision" as its battle theme instead of "You Will Know Our Names".
It is possible that the Pterix used by Bana hatched from the Monster Egg he requested that the party retrieve in the "Secret Ingredient Hunt" quest.
Bana is the only Nopon that fought directly the party in the first game.
Another Nopon named Bana appears in Xenoblade Chronicles 2, due to their similar name, it is possible that this Bana is a reference to the Bana in Xenoblade Chronicles.
Community content is available under
CC-BY-SA
unless otherwise noted.