Ann Takamaki
[
Edit
]
[
Talk
]

Ann Takamaki is one of the main protagonists of Persona 5. She is a student at Shujin Academy member and a member of the Phantom Thieves. Her codename is Panther.
Other appearances
Ann appears as a DLC spirit with the Joker DLC. She also appears on the Phantom Thieves of Hearts Spirit. In addition, she sometimes appears in the background of the Mementos stage, and she appears in Joker's Final Smash.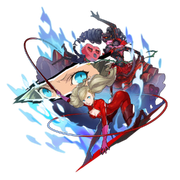 Ann is a playable character in the Caged Desire event.
Official Description
A kindhearted girl who associated with the lecherous Suguru Kamoshida in order to protect her best friend. After awakening to her Persona, Carmen, she joined the Phantom Thieves and resolved to rid society of corrupt adults.