Alice (JPJapanese: アリス

Romaji: Arisu) is the cute and beautiful main protagonist of the game Balloon Kid which was made for the Game Boy. She is the second main character for the Balloon Fight series, but is the only main character of that series to actually play some sort of plot, and have an identity. Also another unique point is that unlike Balloon Fighter, Alice has the ability to remove her balloons and walk on the ground, as well as the ability to jump. Her game was remade in a color version, though it was only for Japan, as well as an offset but Hello Kitty and characters of her series replaced those of Balloon Kid.
Appearances
Balloon Kid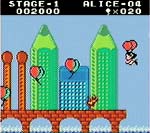 Alice and her little brother Jim live in the small town of Pencilvania. They love to play with balloons and every day they fill them up and watch how they float in the sky. One day Jim decided to fill up all of his balloon to create a rainbow of them. Alice was worried something might happen and tried to warn Jim, but just then a strong wind blew. The wind grasped the balloons, and Jim who still held on to them floated away. Alice suddenly herd a cry and understood what had happened, but which way did he go?
Jim understood he had to help Alice, and started to drop one balloon after the other. Alice noticed the balloons and started to blow up her own balloons, and soon she floats away to save her brother. The chase is difficult however, as angry animals and tall buildings stands in her way, preventing her from quickly reaching her brother.
Community content is available under
CC-BY-SA
unless otherwise noted.