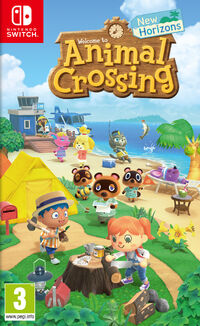 2020 was the fourth year for the Nintendo Switch as well as the year that the Nintendo Switch Animal Crossing Edition was released. Nintendo announced that they would launch multiple games on the Switch as well as still support the Nintendo 3DS. Animal Crossing: New Horizons, a new mainline Animal Crossing game was the biggest first-party title to have a set release date for 2020. Other first-party games that were set to release in the year were enhanced ports of Tokyo Mirage Sessions ♯FE, called Tokyo Mirage Sessions ♯FE Encore, and one of Pikmin 3, called Pikmin 3 Deluxe. Alongside them came a full blown remake of Xenoblade Chronicles titled Xenoblade Chronicles: Definitive Edition, and one of Pokémon Mystery Dungeon: Red Rescue Team and Blue Rescue Team called Pokémon Mystery Dungeon: Rescue Team DX. A new Paper Mario game titled Paper Mario: The Origami King was also counted amongst the big releases of the year. Hyrule Warriors also got a new game tied to the backstory of Breath of the Wild titled Hyrule Warriors: Age of Calamity. A 3D Mario compilation called Super Mario 3D All-Stars was also released and is available, along with Super Mario Bros. 35 until March 31, 2021.
Timeline
Notable releases
Events
Releases
Nintendo Switch
X retail games were released in North America.
X retail games were released in Japan.
X retail games were released in Europe.
Wii
Wii U
Community content is available under
CC-BY-SA
unless otherwise noted.