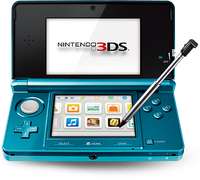 2011 was a year that saw many major games being released. The year 2011 was also the launch year of the original Nintendo 3DS and the Wii Family Edition (the first iteration of the Wii). Games released include many games for the Nintendo 3DS such as Super Mario 3D Land and Mario Kart 7, and The Legend of Zelda: Skyward Sword for the Wii.
Important Events
Notable Games
Games released in 2011
Nintendo DS/DSi
DSiWare
Wii
Virtual Console (Wii)
WiiWare
Nintendo 3DS
Virtual Console (3DS)
Community content is available under
CC-BY-SA
unless otherwise noted.