Raise a Floppa - The Loop
Play Sound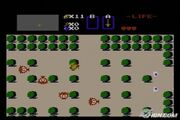 This page consists of Nintendo-related events that occured in 1986.
Timeline
January 31 - About 6.2 million Famicom units have been shipped.[1]
February 21 - Nintendo releases the Famicom Disk System (FDS) in Japan alongside The Legend of Zelda. It is later reported that Nintendo's future games will only be available for the Disk System, and that Nintendo's reason for this decision is that the limitations of ROM cartridges at the time did not allow them to make games that could surpass those they already put out on the market.[1]
April - Kensuke Tanabe joins Nintendo.
April 14 - Nintendo releases Nazo no Murasame-jō.
April 15: It is reported that

Nihon Bussan

became a third-party publisher for the Famicom.[2]
June 3 - Nintendo releases the FDS game Super Mario Bros. 2 in Japan. This version was first officially made playable outside of Japan on the Wii's Virtual Console in 2007.
August: Nintendo releases the PlayChoice-10.[3]
August 6 - Nintendo releases Metroid in Japan.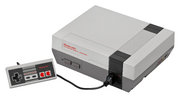 .
September 1 - Nintendo launches the NES throughout Europe.
December 19 - Nintendo releases Kid Icarus in Japan.
Third party publisher guide
Japan (debuts)
| Publisher | First game | System | Release date |
| --- | --- | --- | --- |
| Toei Animation | Baltron | FC | |
| Nihon Bussan | MagMax | FC | |
| Tecmo | Mighty Bomb Jack | FC | |
| Tokyo Shoseki | Keisan Game | FC | |
| Data East | B-Wings | FC | |
| Royal Industries | I Am a Teacher: Super Mario Sweater | FDS | |
| SNK | ASO: Armored Scrum Project | FC | |
| Victor | Banana | FC | |
| Kawada | Othello | FDS | |
| Imagineer | Ginga Denshō: Galaxy Odyssey | FDS | |
| Vic Tokai | Aigiina no Yogen: From the Legend of Balubalouk | FC | |
| VAP | Ganso Saiyuki: Super Monkey Daiboken | FC | |
| K Amusement | Ikari | FC | |
| Takara | The Transformers: Mystery of Convoy | FC | |
| Use | Hottaman no Chitei Tanken | FC | |
| HAL Laboratory | Gall Force | FDS | |
| Towa Chiki | Sherlock Holmes: Hakushaku Reijo Yukai Jiken | FDS | |
| CBS/Sony | Seikima II: Akuma no Gyakushu! | FC | |
| Fuji Television | All Night Nippon Super Mario Bros. | FDS | |
North America (debuts)
Japan (last games)
| Publisher | Last game | System | Release date |
| --- | --- | --- | --- |
| Royal Industries | I Am a Teacher: Teami no Kiso | FDS | |
Births
Character debuts
Games released in 1986
Vs. System (North America)
Nintendo Entertainment System
Family Computer Disk System
References
External links