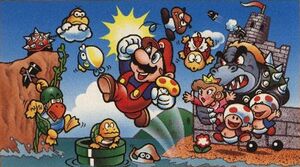 This page contains Nintendo-related events that occurred in 1985.
Timeline
June 21 - A Famicom version of Spartan X developed by Nintendo is released. Nintendo gained the rights to develop this version from Irem.
October 18 - The Nintendo Entertainment System is released in North America, soon also launching with Super Mario Bros..[1] The sales of Super Mario Bros. would increase greatly due to it being bundled with the system.
Third party publisher debuts (Japan)
All titles were released for the Famicom.
Publisher
First game
Release date
Jaleco
Exerion
February 11, 1985
Taito
Space Invaders
April 17, 1985
Konami
Kekkyoku Nankyoku Daibouken
April 22, 1985
Yie Ar Kung Fu
DB Soft
Flappy
June 14, 1985
Enix
Door Door
July 18, 1985
Irem
Zippy Race
July 18, 1985
Sunsoft
Super Arabian
July 25, 1985
SETA
Astro Robo Sasa
August 9, 1985
ASCII
Honshougi: Naitou Kudan Shougi Hiden
August 10, 1985
Bandai
Kinnikuman: Muscle Tag Match
November 8, 1985
Pony Canyon
Onyako Town
November 21, 1985
Toshiba EMI
Pachicom
November 21, 1985
Soft Pro
Karateka
December 5, 1985
Capcom
1942
December 11, 1985
Kemco
Dough Boy
December 11, 1985
Square
Thexder
December 19, 1985
Tokuma Shoten
Exed Exes
December 21, 1985
Lot Lot
Character debuts
Games released in 1985
Nintendo Entertainment System
69 games were released in Japan.
18 games were released in North America.
References
External links
Community content is available under
CC-BY-SA
unless otherwise noted.