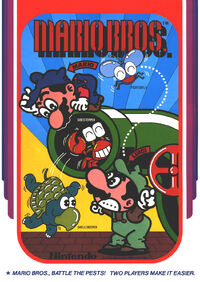 Notable events of
1983
in
Nintendo
related history.
Events
According to Nintendo, total video game sales for 1983 are $3.2 billion USD. 1
Notable Releases
Mario Bros., the Game & Watch version, is released, introducing the character of Luigi.
Mario Bros. is released as a one or two player arcade game.
The Gunpei Yokoi developed puzzle game Crossover is released. It is among the last major non-electronic toys Nintendo ever released.
Other media
September 17 - Saturday Supercade, which featured cartoons based on the Donkey Kong and Donkey Kong Jr. Video games,and premiering on CBS.
Hardware
Nintendo releases the Family Computer console in Japan. Shortly after its release, complaints begin to surface about rampant system instability, prompting Nintendo to issue a product recall and to rerelease the machine with a new motherboard.
Lawsuits
MCA Universal files suit against Nintendo, claiming that the latter company's video arcade hit Donkey Kong violated Universal's copyright on King Kong. After a brief trial, the judge determined that the rights to the original Kong had passed into the public domain. The case was dismissed, and MCA Universal paid $1.8 million USD in damages to Nintendo.
Character debuts
Games released in 1983
Nintendo Entertainment System
9 games were released in Japan.
Arcade
Community content is available under
CC-BY-SA
unless otherwise noted.